Optometric Arts is dedicated to providing patients with premium product. With that in mind, Optometric Arts coupled with the finest Japanese manufacturers to began the design of our ever-expanding collection! We offer the pieces in a variety of colors and sizes to
accommodate our diverse patients. We utilize unparalleled materials to create unique eyewear that is both functional and fashionable. Our rimless designs incorporate titanium, stainless steel and aluminum to maximize flexibility and durability. Our collection of resilient full frame and semi-rimless designs effectively utilize titanium and carbon fiber, to create a frame balanced between tradition and style.
Dennis Jason Matthew Dory Junior Dorabella
And Now Introducing 2 New Designs...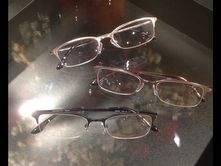 Anthony Joseph